LABOUR
24/04/2019
---
Rue de l'Abbaye 59 Abdijstraat 1050 Brussels

Tuesday – Friday: 10:00-12:00 - 12:45-17:00
Week-end : Groups by guided tour
Opening 24 April – Exhibition until 15 July 2019
Curated by Komplot with Kasper Bosmans, Jonathan Boutefeu & Marina Pinsky, Aline Bouvy, Pauline Emond Cambrai, Gaillard & Claude, Jerome Gardening, Cléo Totti, Markus von Platen
Contemporary artists works will be installed in the museum located in the house-cum-studio of artist, painter, sculptor and draughtsman Constantin Meunier (1831-1905). The items on display trace more specifically the evolution of the master between 1875 and 1905, this "second life" in his own words, during which his Realist talent focused more on the social and industrial aspects of Belgium.
Social realism will be updated from the quote New Day New Money To Be Made taken from the pop song Black Barbie by Nicki Minaj addressing the ambient precarity.
Time is money. Today's capitalist society hardly leaves us the time to perform one mission, and we already need to look for the next one. No time to think.
This exhausting rhythm of searching for work, finding new clients, making the job and getting paid; This constant reinvention of the self in every challenging moment of uncertainty, became the obsessive, repetitive patterns of our post-colonial, post-proletarian, post-work conditions. These routines in which you are kept captive, prevent the possibility to break through. Precarity is constructed to make change impossible. What about social welfare? What about psychological welfare? Reality check? Paycheck. No time to lose.
---
---
New space : Chateau NOUR
23/04/2019
---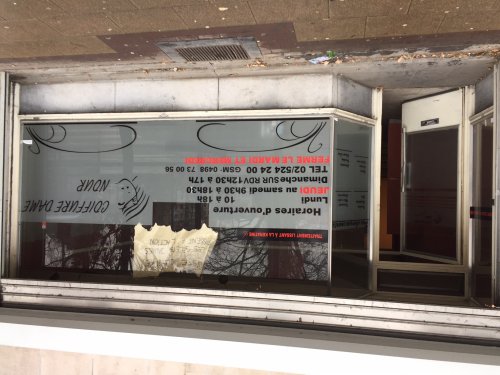 On 23 April, Komplot will open a new exhibition and residency space with Mosso, Clovis XV, SUPERDEALS and Rectangle.
---
Chateau Nour: Residency and exhibitions at 13 Square Albert 1er 1070 Brussels
---
Notre objectif, avec l'ouverture d'un nouvel espace intérieur et extérieur, dans l'ancien salon de coiffure NOUR et jardin Albert, est de stimuler les collaborations entre Clovis XV, Komplot, Mosso, Rectangle, SUPER DEALS et d'autres associations, groupes et personnes. Sur la base d'un programme d'ateliers et résidences, nous créons un réseau dans lequel développement local et participation vont de pair avec des formes expérimentales de créativité.
——
Our goal, with the opening of a new interior and exterior space, in the former NOUR hair salon and Albert garden, is to stimulate collaborations between Clovis XV, Komplot, Mosso, Rectangle, SUPER DEALS and other associations, groups and people. On the basis of a program of workshops and residences, we create a network in which local development and participation go hand in hand with experimental forms of creativity.
————
Ons doel, met de opening van een nieuwe binnen- en buitenruimte, in de voormalige kapsalon NOUR en Albert tuin, is om samenwerkingen tussen Clovis XV, Komplot, Mosso, Rectangle, SUPER DEALS en andere verenigingen te stimuleren, groepen en mensen. Op basis van een programma van workshops en residenties creëren we een netwerk waarin lokale ontwikkeling en participatie hand in hand gaan met experimentele vormen van creativiteit.
---
---
ALMA SARIF
06/03/2019
---
ALMA SARIF, an artists initiative of Joseph Kusendila & Monica Gallab will occupy Komplot space. Opening on 6 March with the book launch of FR David edited by Will Holder. With a parallel event at Wiels.
---
---
Exchange Project with Market Gallery Glasgow
21/02/2019
---
Market Gallery invites you to an exhibition and performances programmed as part of a curatorial exchange with Brussels-based collective Komplot. In collaboration with Komplot curator Sonia Dermience, we will be presenting the work of two artists: Cléo Totti and Seyran Kirmizitoprak.

Opening 42 days before the UK officially leaves the European Union, Komplot's intervention at Market Gallery is a structural acknowledgement of artistic and curatorial exchange opportunities afforded by unimpeded travel within Europe. By bringing Brussels home, we hope to lay ground for support structures that will continue to extend across borders regardless of state-imposed restrictions.

Founded in 2002 in Brussels, Komplot is a curatorial collective of variable composition and condition. Concerned with nomadic practices and trends of specialisation, it operates as a platform for experimental art. Extensive research into post '68 collaborative art practices in Belgium has led Komplot to develop an open and flexible approach to programming. Encompassing performance, publications, films, workshops, exhibitions and events, Komplot's projects continue to interrogate the relationship between art and its physical, social and political environment.
The concept of the alter ego underpins all of the work Seyran Kirmizitoprak has produced ever since the beginning of her relationship with Komplot in 2011. Imbued with a post-pop theatricality, Seyran's practice is heavily informed by her experience as singer and writer, leading her to develop a performance persona halfway between a supermodel and a dilettante. Seyran has presented work across Belgium and internationally, including solo and group exhibitions at NICC Antwerp, Enterprise Project Athens and the Copenhagen Art Festival.

The work of Cléo Totti evolves in a hybrid universe where high technology seamlessly merges with abstraction and references to the body. Spanning across genres, Cléo's installations comprise a catastrophically elegant colour palette and eclectic collections of organic shapes. Cléo has exhibited extensively all over Belgium, from museum institutions such as S.M.A.K. in Ghent, to commercial and underground galleries such as Tatjana Pieters, Uhoda and SUPERDEALS, Diesel, Clovis XV...

Friday 22nd February – Exhibition preview (6 – 9pm)
Saturday 23rd February Talk by Komplot Director Sonia Dermience (2 – 4pm)

Exhibition open 11 - 5 pm Saturday and Sunday
---
---
Our space
03/03/2018
---
Vorstse Steenweg 90 Chaussée de Forest 1060 Brussels
---
From March 2019, the space will be used by ALMA SARIF, an artists initiative of Joseph Kusendila & Monica Gallab.
---
---
ARCHIVES
30/11/-0001
---