Artists Print book fair
09/03/2018
---
VERNISSAGE/OPENING :
VENDREDI/FRIDAY/VRIJDAG 09.03.18 / 17:00 > 20:00

FAIR:
SAMEDI/SATURDAY/ZATERDAG 10 & DIMANCHE/SUNDAY/ZONDAG 11.03.18 / 14:00 > 18:30

- GRATUIT/FREE ENTRANCE/VRIJ TOEGANG

- PARTICIPANTS :
Accattone (BE)
Annick Nölle (BE)
Autobahn (BE)
Autodrône (FR)
Bartleby & CO (BE)
Blazers / Blasons (FR)
Boris Thiébaut (BE)
Bruno Robbe éditions (BE)
Chez Rosi (BE)
Claude Closky (FR)
Clean Press (BE)
Denicolai & Provoost (BE)
Dialogist-kantor (BE)
E il topo ( it)
Egon Van Herreweghe (BE)
Ets Decoux (BE)
Florence Loewy (FR)
Indekeuken (BE)
Herman Byrd (BE)
Ingmar (FR)
JAP (BE)
Jean-Pierre Bertrand (FR)
Keymouse (BE)
Komplot (BE)
La Cambre — Printmaking (BE)
La Lettre Volée (BE)
Lapin-Canard (FR)
La Rivière Sèche (BE)
Le Nouveau Remorqueur (BE)
Les éditions 5vs5 (BE)
Lise Duclaux (BE)
Lord Nelson (BE)
Lustre éditions (BE)
MULTI - ArBA (EsA) (BE)
Nadine (BE)
Projet Albert de Visscher –Editeur (BE)
Protocole / Protocol (BE)
Super Structure (BE)
Surfaces Utiles (BE)
---
---
Our space occupied by Saloon
03/03/2018
---
Vorstse Steenweg 90 Chaussée de Forest 1060 Brussels
9 March - 15 July
Saloon program at Komplot
---
---
New Day New Money To Be Made
27/09/2017
---
New Day New Money To Be Made is a quote taken from the pop song Black Barbie by Nicki Minaj addressing the ambient precarity. Time is money. Today's capitalist society hardly leaves us the time to perform one mission, and we already need to look for the next one. No time to think. This exhausting rhythm of searching for work, finding new clients, making the job and getting paid; This constant reinvention of the self in every challenging moment of uncertainty, became the obsessive, repetitive patterns of our post-colonial, post-proletarian, post-work conditions. These routines in which you are kept captive, prevent the possibility to break through. Precarity is constructed to make change impossible. What about social welfare? What about psychological welfare? Reality check? Paycheck. No time to lose.
---
This was the statement text of our last series of emerging artists shows in Komplot that we wish to extend to all the practice!
---
---
EDITION CORNER ///
10/12/2015
---
---
---
---
SOME EDITIONS / ARTIST BOOKS
---
---
---
---
The Cure book
09/12/2015
---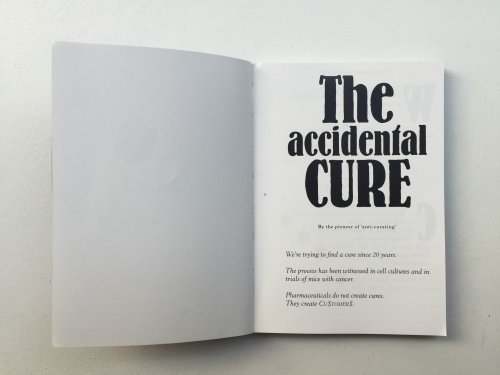 The Cure is distributed by MOTTO and on sale in Brussels at Wiels, Filigranes, Tulitu, Peinture Fraîche, Superstrat, Tropismes and in Gent at Boekhandel Limerick.
---
With Contributors:
 Felicia Atkinson (Fr), Anna Barham (Uk), Bruce Bégout (Fr), Kasper Bosmans (Be), Michelangelo Corsaro (It), Park C. Myers (Us), Audrey Cottin (Fr), Laura Herman (Be), Erika Hock (Kg), Katerina Kana (Gr), Marie-Fleur Lefèbvre (Fr), Zoë Paul (Uk), Emmanuelle Quertain (Be), Marthe Ramm Fortun (No), Alex Reynolds (Uk), Julia Spínola (Es), Cléo Totti (Be), Pieter Vermeulen (Be), Catherine Vertige (Be)


Edited by 
Benjamin Jaubert (Fr), Sofie van Loo (Be), Stefaan Willems (Be)
Introduced by Sonia Dermience (Be)


Designed by Ismaël Bennani & Orfée Grandhomme - Überknackig
---
BOOK LAUNCH BY GRÉGOIRE BERGERET / LIVE TECHNO BY ELEKTRONISCH VOLUME
01/11/2015
---
---
KOPIOITU
22/08/2013
---
YEAR 13 magazine
30/04/2013
---
Buy your copy online at:
Check our launchs here:
---
ARTISTS PRINT
04/04/2013
---
Have a look at images from the happy week-end of ARTISTS PRINT, our book-fair for printed-matter lovers.
---
Une année de chiens: Grégoire Bergeret
13/02/2013
---
12 euros: to be ordered at info@kmplt.be
---
THE SPIRIT OF ECSTASY by David Evrard
29/11/2012
---
Buy your copy online at
With Anne Bossuroy, Jean-Daniel Bourgeois, Isabelle Copet, Jonathan Dewinter, Jenny Donnay, Lucie Ducenne, François Francescini, Jonas Locht, Xavier Mary, Gérard Meurant et Nicolas Verplaetse.
---
ARCHIVES
30/11/-0001
---
Past Projects
---