Alembic Growl - Nina Wiesnagrotzki & Maximilian Schmoetzer
17/11/2017
---
Alembic Growl
Nina Wiesnagrotzki & Maximilian Schmoetzer
Curated by Florian Fischer

Opening Friday 17th of November, 6-9pm
Exhibition until 23rd December, Thursday-Saturday 2-6pm

Komplot
Chaussée de Forest 90 Vorstesteenweg
1060 Brussels
New Day New Money To Be Made
27/09/2017
---
New Day New Money To Be Made is a quote taken from the pop song Black Barbie by Nicki Minaj addressing the ambient precarity. Time is money. Today's capitalist society hardly leaves us the time to perform one mission, and we already need to look for the next one. No time to think. This exhausting rhythm of searching for work, finding new clients, making the job and getting paid; This constant reinvention of the self in every challenging moment of uncertainty, became the obsessive, repetitive patterns of our post-colonial, post-proletarian, post-work conditions. These routines in which you are kept captive, prevent the possibility to break through. Precarity is constructed to make change impossible. What about social welfare? What about psychological welfare? Reality check? Paycheck. No time to lose.
---
This was the statement text of our last series of emerging artists shows in Komplot that we wish to extend to all the practice!
---
---
Plant B Molenbeek Sculpture Parc
08/09/2017
---
Artists: Maiken Bent, Benedikte Bjerre, Jonathan Boutefeu, Aline Bouvy, Carl Mannov, Xavier Mary, Marthe Ramm Fortun, Antoine Renard, Clémence de La Tour du Pin, Philippe Van Wolputte Curators: Komplot & Toke Lykkeberg
Design: überknackig
Video: Collectif Illicium
Concert 8 Sept. 6pm: Gnawas Met-X Maalem Dris
Performance 10 Sept. 2pm: Marthe Ramm Fortun
Guided tour 17 Sept. 2pm: Sihame Haddioui

Gieterijpark / Parc de la Fonderie
Rue de L'éléphant / Olifantstraat 1080 Brussels

Musée de la fonderie / Museum voor arbeid en industrie
Rue de Ransfort 27 Ransfortstraat 1080 Brussels

08/09—30/11/2017
7/7
8h–20h until/jusque/tot 31/10
9h–17h until/jusque/tot 30/11

FR
Si le plan A est la biodiversité que nous comprenons comme «nature réelle» où Gaia est en équilibre assez prévisible, Plant B est la bio-technosphère dans laquelle nous entrons actuellement, où les processus technologiques et biologiques sont rapides et imprévisibles. À une époque où les changements climatiques et technologiques redéfinissent l'habitat et plus largement notre planète à des taux de croissance exponentielle, la biosphère et la technosphère fusionnent dans un monde artificiel allant au-delà de notre contrôle. Avec Plant B, les artistes et curateurs explorent l'art au sein d'une bio-technosphère où le travail s'attache plus à diriger que maîtriser le processus de création participatif. L'art ne se conçoit plus uniquement comme le produit d'un individu, mais comme le travail d'un réseau d'agents humains et non-humains.

EN
If plan A is biodiversity that we understand as 'real nature' where Gaia is in equilibrium and somewhat predictable, Plant B is the bio-technosphere we're currently entering where technological and biological processes are fast paced and unpredictable. At a time when climate change and technology are remaking our planet and habitat at exponential growth rates, biosphere and technosphere merge in a manmade world beyond man's control. In Plant B, the art will not just be on display but also in interplay with the forces already at play in the urban environment of Brussels. The artworks are not only exhibited in but also exposed to their surroundings.

NL
In een tijdperk waarin klimatologische veranderingen en snel ontwikkelende technologieën onze habitat en, breder gezien, onze planeet in hoge mate herdefiniëren, fusioneren de biosfeer en technosfeer zich buiten onze controle in een kunstmatige wereld. Met de tentoonstelling Plant B onderzoeken de kunstenaars en curatoren kunst binnen de biotechnosfeer waarbij het werk tot stand komt door een participatief, creatief proces, eerder dan halstarrig de controle te willen houden. Kunst is niet langer het product van een individu, maar het werk van een netwerk aan menselijke en niet-menselijke actoren.

Toke Lykkeberg

Supports: FWB, Cocof, VGC, OCA, Danish Arts Foundation, Danish Cultural Institute, Commune de Molenbeek, Larue, Musée de la Fonderie, Maison des cultures
Our New Address
13/02/2016
---
Vorstse Steenweg 90 Chaussée de Forest 1060 Brussels
---
---
EDITION CORNER ///
10/12/2015
---
---
---
---
SOME EDITIONS / ARTIST BOOKS
---
---
---
---
The Cure book
09/12/2015
---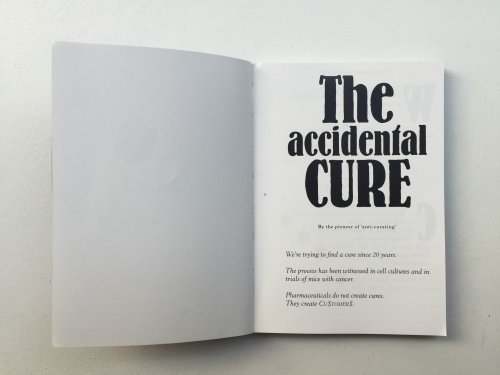 The Cure is distributed by MOTTO and on sale in Brussels at Wiels, Filigranes, Tulitu, Peinture Fraîche, Superstrat, Tropismes and in Gent at Boekhandel Limerick.
---
With Contributors:
 Felicia Atkinson (Fr), Anna Barham (Uk), Bruce Bégout (Fr), Kasper Bosmans (Be), Michelangelo Corsaro (It), Park C. Myers (Us), Audrey Cottin (Fr), Laura Herman (Be), Erika Hock (Kg), Katerina Kana (Gr), Marie-Fleur Lefèbvre (Fr), Zoë Paul (Uk), Emmanuelle Quertain (Be), Marthe Ramm Fortun (No), Alex Reynolds (Uk), Julia Spínola (Es), Cléo Totti (Be), Pieter Vermeulen (Be), Catherine Vertige (Be)


Edited by 
Benjamin Jaubert (Fr), Sofie van Loo (Be), Stefaan Willems (Be)
Introduced by Sonia Dermience (Be)


Designed by Ismaël Bennani & Orfée Grandhomme - Überknackig
---
BOOK LAUNCH BY GRÉGOIRE BERGERET / LIVE TECHNO BY ELEKTRONISCH VOLUME
01/11/2015
---
---
KOPIOITU
22/08/2013
---
YEAR 13 magazine
30/04/2013
---
Buy your copy online at:
Check our launchs here:
---
ARTISTS PRINT
04/04/2013
---
Have a look at images from the happy week-end of ARTISTS PRINT, our book-fair for printed-matter lovers.
---
Une année de chiens: Grégoire Bergeret
13/02/2013
---
12 euros: to be ordered at info@kmplt.be
---
THE SPIRIT OF ECSTASY by David Evrard
29/11/2012
---
Buy your copy online at
With Anne Bossuroy, Jean-Daniel Bourgeois, Isabelle Copet, Jonathan Dewinter, Jenny Donnay, Lucie Ducenne, François Francescini, Jonas Locht, Xavier Mary, Gérard Meurant et Nicolas Verplaetse.
---
ARCHIVES
30/11/-0001
---
Past Projects
---