Plant B Molenbeek Sculpture Parc
08/09/2017
---
Artists: Maiken Bent, Benedikte Bjerre, Jonathan Boutefeu, Aline Bouvy, Carl Mannov, Xavier Mary, Marthe Ramm Fortun, Antoine Renard, Clémence de La Tour du Pin, Philippe Van Wolputte Curators: Komplot & Toke Lykkeberg
Design: überknackig
Video: Collectif Illicium
Concert 8 Sept. 6pm: Gnawas Met-X Maalem Dris
Performance 10 Sept. 2pm: Marthe Ramm Fortun
Guided tour 17 Sept. 2pm: Sihame Haddioui

Gieterijpark / Parc de la Fonderie
Rue de L'éléphant / Olifantstraat 1080 Brussels

Musée de la fonderie / Museum voor arbeid en industrie
Rue de Ransfort 27 Ransfortstraat 1080 Brussels

08/09—30/11/2017
7/7
8h–20h until/jusque/tot 31/10
9h–17h until/jusque/tot 30/11

FR
Si le plan A est la biodiversité que nous comprenons comme «nature réelle» où Gaia est en équilibre assez prévisible, Plant B est la bio-technosphère dans laquelle nous entrons actuellement, où les processus technologiques et biologiques sont rapides et imprévisibles. À une époque où les changements climatiques et technologiques redéfinissent l'habitat et plus largement notre planète à des taux de croissance exponentielle, la biosphère et la technosphère fusionnent dans un monde artificiel allant au-delà de notre contrôle. Avec Plant B, les artistes et curateurs explorent l'art au sein d'une bio-technosphère où le travail s'attache plus à diriger que maîtriser le processus de création participatif. L'art ne se conçoit plus uniquement comme le produit d'un individu, mais comme le travail d'un réseau d'agents humains et non-humains.

EN
If plan A is biodiversity that we understand as 'real nature' where Gaia is in equilibrium and somewhat predictable, Plant B is the bio-technosphere we're currently entering where technological and biological processes are fast paced and unpredictable. At a time when climate change and technology are remaking our planet and habitat at exponential growth rates, biosphere and technosphere merge in a manmade world beyond man's control. In Plant B, the art will not just be on display but also in interplay with the forces already at play in the urban environment of Brussels. The artworks are not only exhibited in but also exposed to their surroundings.

NL
In een tijdperk waarin klimatologische veranderingen en snel ontwikkelende technologieën onze habitat en, breder gezien, onze planeet in hoge mate herdefiniëren, fusioneren de biosfeer en technosfeer zich buiten onze controle in een kunstmatige wereld. Met de tentoonstelling Plant B onderzoeken de kunstenaars en curatoren kunst binnen de biotechnosfeer waarbij het werk tot stand komt door een participatief, creatief proces, eerder dan halstarrig de controle te willen houden. Kunst is niet langer het product van een individu, maar het werk van een netwerk aan menselijke en niet-menselijke actoren.

Toke Lykkeberg

Supports: FWB, Cocof, VGC, OCA, Danish Arts Foundation, Danish Cultural Institute, Commune de Molenbeek, Larue, Musée de la Fonderie, Maison des cultures
Vacanze in Italia
01/09/2017
---
Vacanze In Italia : A Journey To Discover The Beauty Of Incompiuto
The collective Alterazioni Video
Curated by Caterina Zevola

Opening
1 September 6 - 9PM
Performance by Alterazioni Video at 7 PM

Exhibition
2 September - 14 October
Thursday to Saturday // 2 - 6PM

Special opening hours during the Brussels Gallery Weekend
September 7 Thursday // 5 - 9PM
September 8-10 Friday, Saturday, Sunday // 11AM - 7PM

EN
The collective Alterazioni Video has been working on identifying, surveying and researching examples of Incompiuto for over 10 years.
In this context, the term "Incompiuto" - an Italian word that can be translated into unfinished or incomplete - refers to architectural and infrastructural works whose construction has been halted and which can be seen in various locations throughout Italy. They are mainly public works, and for a variety of reasons (design errors, political decisions, inaccurate cost estimates, contractor bankruptcies, evident disregard of building regulations, disappearance of funds) their construction has been shelved, leaving just a series of ruins abandoned even before having been used at all. Alterazioni Video presents a series of cultural and artistic operations that give dignity to these structures after their abandonment: documentaries, artistic installation along with extensive documentation and archives. The sum of these relics of never attained futures is so vast that it can be considered as a true architectural and visual style, representing Italy and the age in which they were produced.
"Incompiuto has been the key to interpreting public-sector architecture in Italy since the Second World War" says the first point of their Manifesto.
The result of this research is a new and stunning "Grand Tour" through those ruins of modernity.
Alterazioni Video is an artist collective founded in Milan, Italy, in 2004. Members are: Paololuca Barbieri Marchi, Alberto Caffarelli, Matteo Erenbourg, Andrea Masu, Giacomo Porfiri.

FR
Le collectif Alterazioni Video a travaillé sur l'identification et la recherche d'exemples d'Incompiuto depuis plus de 10 ans.
Dans ce contexte, le terme «Incompiuto» - un mot italien qui peut être traduit par inachevé ou incomplet - se réfère à des travaux d'architecture et d'infrastructure dont la construction a été interrompue et que l'on peut voir dans toute l'Italie. Ils sont principalement des travaux publics et pour diverses raisons (erreurs de conception, décisions politiques, estimations de coûts inexactes, faillites d'entrepreneurs, méconnaissance évidente des règlements de construction, disparition de fonds), leur construction a été mise à l'écart, laissant une série de ruines abandonnées avant d'avoir été utilisées. Alterazioni Video présente une série d'opérations culturelles et artistiques qui redonnent dignité à ces structures après leur abandon. La somme de ces reliques d'avenir jamais atteint est si vaste qu'elle peut être considérée comme un véritable style architectural et visuel.
"Incompiuto est la clé pour interpréter l'architecture du secteur public en Italie depuis la Seconde Guerre mondiale", indique le premier point de leur Manifeste.
Le résultat de cette recherche est un nouveau et magnifique "Grand Tour" à travers ces ruines de la modernité.
Alterazioni Video est un collectif d'artistes fondé à Milan en Italie en 2004. Les membres sont: Paololuca Barbieri Marchi, Alberto Caffarelli, Matteo Erenbourg, Andrea Masu, Giacomo Porfiri.

NL
Het collectief Alterazioni Video werkt al meer dan 10 jaar aan het identificeren, in kaart brengen en onderzoeken van voorbeelden van Incompiuto.
In deze context verwijst "Incompiuto" - een Italiaans woord voor onafgewerkt of incompleet - naar architecturale en infrastructurele werken waarvan de bouwwerken zijn stopgezet, en vandaag nog zichtbaar zijn op verschillende locaties in Italië. Het zijn meestal publieke werken die om verschillende redenen (ontwerpfouten, politieke beslissingen, foutieve begrotingen, faillissement van aannemers, gebrek aan kennis over urbanisatie, of het verdwijnen van subsidies/sponsors) nooit zijn afgeraakt. Vandaag zijn het verlaten ruïnes die nooit in gebruik zijn genomen. Alterazioni Video presenteert een serie van culturele en artistieke operaties die waarde geven aan deze verlaten structuren: documentaires en artistieke installaties met een uitgebreide documentatie en archivering. Het grote aantal overblijfselen is zo immens dat het beschouwd wordt als een architecturale en visuele stijl. Deze onafgewerkte gebouwen representeren een tijdsperiode in Italië. "Incompiuto is de sleutel om de publieke ruimte van Italië na de Tweede Wereldoorlog te interpreteren" is het eerste punt dat aangehaald wordt in hun Manifesto.
Hun onderzoek resulteert in een nieuwe en verbazingwekkende "Grand Tour" doorheen deze ruïnes van de moderniteit.
Alterazioni Video is een kunstenaarscollectief opgericht in Milaan, Italië, in 2004. De leden zijn Paololuca Barbieri Marchi, Alberto Caffarelli, Matteo Erenbourg, Andrea Masu, Giacomo Porfiri.

with the generous support of:
FBW - Fédération Wallonie-Bruxelles/Officiel
COCOF - Commission communautaire française de la Région de Bruxelles-Capitale
VCG - Vlaamse Gemeenschapscommissie
SANTERO 958 - Santero Wines
Our New Address
13/02/2016
---
Vorstse Steenweg 90 Chaussée de Forest 1060 Brussels
---
---
EDITION CORNER ///
10/12/2015
---
---
---
---
SOME EDITIONS / ARTIST BOOKS
---
---
---
---
The Cure book
09/12/2015
---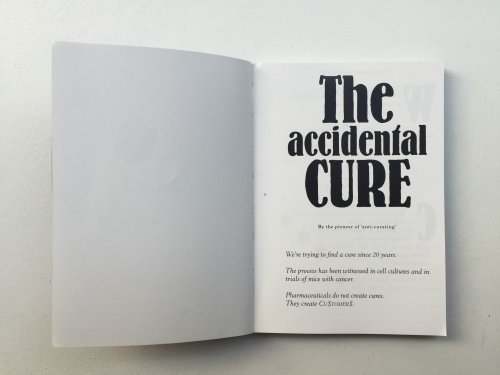 The Cure is distributed by MOTTO and on sale in Brussels at Wiels, Filigranes, Tulitu, Peinture Fraîche, Superstrat, Tropismes and in Gent at Boekhandel Limerick.
---
With Contributors:
 Felicia Atkinson (Fr), Anna Barham (Uk), Bruce Bégout (Fr), Kasper Bosmans (Be), Michelangelo Corsaro (It), Park C. Myers (Us), Audrey Cottin (Fr), Laura Herman (Be), Erika Hock (Kg), Katerina Kana (Gr), Marie-Fleur Lefèbvre (Fr), Zoë Paul (Uk), Emmanuelle Quertain (Be), Marthe Ramm Fortun (No), Alex Reynolds (Uk), Julia Spínola (Es), Cléo Totti (Be), Pieter Vermeulen (Be), Catherine Vertige (Be)


Edited by 
Benjamin Jaubert (Fr), Sofie van Loo (Be), Stefaan Willems (Be)
Introduced by Sonia Dermience (Be)


Designed by Ismaël Bennani & Orfée Grandhomme - Überknackig
---
BOOK LAUNCH BY GRÉGOIRE BERGERET / LIVE TECHNO BY ELEKTRONISCH VOLUME
01/11/2015
---
---
KOPIOITU
22/08/2013
---
YEAR 13 magazine
30/04/2013
---
Buy your copy online at:
Check our launchs here:
---
ARTISTS PRINT
04/04/2013
---
Have a look at images from the happy week-end of ARTISTS PRINT, our book-fair for printed-matter lovers.
---
Une année de chiens: Grégoire Bergeret
13/02/2013
---
12 euros: to be ordered at info@kmplt.be
---
THE SPIRIT OF ECSTASY by David Evrard
29/11/2012
---
Buy your copy online at
With Anne Bossuroy, Jean-Daniel Bourgeois, Isabelle Copet, Jonathan Dewinter, Jenny Donnay, Lucie Ducenne, François Francescini, Jonas Locht, Xavier Mary, Gérard Meurant et Nicolas Verplaetse.
---
ARCHIVES
30/11/-0001
---
Past Projects
---