Winter Solstice Festival
20/12/2019
---
30 NOV 13h30-16h workshop light parade

20 DEC :
15h30: 13 Square Albert 1er 1070 Brussels
Performance "divination par les crêpes" Luz De Amor

16h30: Marche aux lanternes / A walk with lanterns

17h30: Boutique culturelle 16 rue Van Lintstraat 1070 Brussels
Animations de livres pour enfants dans différentes langues et cadeaux / Storytelling in different languages /
"Under A Polar Star" The Winter Book Club

19h: 13 Square Albert 1er 1070 Brussels
Films: Benjamin Verhoeven...

20h: DJ Padraic E Moore, Nikolay Karabinovych

----
21 DEC : Garden party
----
Shop windows exhibition with YOU and artists: Angélique Aubrit, Ludovic Beillard , Aline Bouvy, Francisco Camacho Herrera, Marilyne Coppée, Luz De Amor, Padraic E Moore, Tristan Gac, Gaelle Loth, Sarah & Charles, Emmy Skensved, Merzedes Šturm-Lie, Thiên Ngoc Ngô-rioufol (banner drawing), Maria Silchenko, Lieselotte Vloeberghs
APPEL A PROJETS / OPEN OPROEP / OPEN CALL: Please send your images to our box ++++++++++++

FR: Dans le cadre de la création de structures basées sur des écosystèmes naturels, nous préparons avec nos partenaires un festival qui correspond au solstice d'hiver, avant les vacances de Noël en décembre. Avec cette action, nous souhaitons créer un débat sur la dynamique capitaliste générée autour de Noël et retrouver ses origines naturelles à travers des actions créatives. Ceci sera réalisé grâce aux ateliers avec les artistes grâce auxquels le processus de création deviendra un moyen de cohésion et de développement social. Les artistes organiseront des ateliers avec les différents groupes qui donneront lieu à une action collective, ainsi que des performances pour le jour le plus court de l'année. À travers les arts visuels, nous proposons un débat critique sur la supposée promesse d'une vie meilleure grâce au capitalisme, qui à son tour nuit à notre nature et contribue à l'indifférence générale à l'égard du sort de notre génération sans-abri, sans-papiers, sans emploi. Nous réagissons à cet état de fait par des actions telles que l'art, la cuisine, la danse, la musique ou la construction avec chaque participant, voisin, artiste, étudiant qui pourra exprimer sa créativité dans des matériaux considérés comme des rejets par le système capitaliste.

EN: We would like to invite you to participate to the Winter Solstice Festival. In the line of creating structures based on natural ecosystems, we are preparing with our different partners a festival that matches the winter solstice, before Christmas holidays in December. With this action we wish to create a debate about the capitalist dynamics that have been generated around Christmas and return to its natural origins through creative actions. This will be produced thanks to the workshops with artists through which the creative process will become a means of social emancipation. The artists will carry out workshops with different groups, resulting in actions that will be part of the animations of Albert Ier square and its surroundings as much as performances for the shortest day of the year. Through visual art, we propose a critical debate about the supposed promise of a better life thanks to capitalism, which in turn damages our nature and contributes to the overall indifference regarding the fate of our homeless, undocumented, gender and sexual discrimination, unemployed generation. In the setting of our lives, in the form of a workplace, school, public space, businesses or recreational areas : We are the actors of these places! With our intention to host and dwell as many groups as possible, in the month prior to the solstice, we will carry out a series of actions for the festival such as meeting, dancing, singing, cooking, designing... Each participant, neighbor, artist, curator will be able to express their creativity in materials considered as discards by the capitalist system.

NL: In de lijn van het creëren van structuren op basis van natuurlijke ecosystemen, bereiden we met onze verschillende partners een festival voor dat overeenkomt met de winterzonnewende, vóór de kerstvakantie in december. Met deze actie willen we een debat creëren over de kapitalistische dynamiek die rond Kerstmis is gegenereerd en terugkeren naar zijn natuurlijke oorsprong door creatieve acties. Dit zal worden geproduceerd dankzij de workshops met scholen en kunstenaars waardoor het creatieve proces een middel tot samenhang en sociale ontwikkeling zal worden. De kunstenaars zullen workshops uitvoeren met de verschillende groepen, resulteren in een actie of collectief werk dat onderdeel zal zijn van de decoratie van het Albert Ier-plein en zijn omgeving, evenals uitvoeringen voor de kortste dag van het jaar. Via beeldende kunst stellen we een kritisch debat voor over de veronderstelde belofte van een beter leven dankzij het kapitalisme, dat op zijn beurt onze natuur schaadt en bijdraagt ​​aan de algemene onverschilligheid ten aanzien van het lot van onze daklozen, mensen zonder papieren, geslacht en seksuele discriminatie, werkloze generatie. In de context van ons leven, in de vorm van een werkplek, school, openbare ruimte, bedrijven of recreatiegebieden: wij zijn de acteurs van deze plaatsen! Met onze intentie om zoveel mogelijk groepen te hosten en te wonen, zullen we in de maand voorafgaand aan de zonnewende een reeks cohesie- en voorbereidingsacties voor het festival uitvoeren. Dit zijn acties zoals koken of bouwen, waarbij elke deelnemer, buurman, kunstenaar, curator zijn creativiteit kan uiten in materialen die door het kapitalistische systeem als teruggooi worden beschouwd.

Organisations: Alhambra, Boutique culturelle, Institut de la vie, KASK Curatorial Studies, Komplot, Lire & écrire, Projet de cohésion sociale Albert

With the support of / Met de steun van / Avec le soutien de KASK & CONSERVATORIUM School of Arts Gent, Fédération Wallonie-Bruxelles/Officiel, Cocof, VGC, Cultuurdienst Anderlecht, Cohésion sociale Anderlecht, Foyer Anderlechtois
---
---
Benjamin Verhoeven & Susannah Stark
13/12/2019
---
13 DEC 18.00
Komplot
13 Square Albert 1er 1070 Brussels
Susannah Stark & Benjamin Verhoeven
EN:
Komplot is pleased to announce the solo show of Benjamin Verhoeven resulting from a six months residency and a performance of Susannah Stark in residency from Glasgow, Scotland in the context of the exchange program with Market Gallery.
Excerpt from Benjamin Verhoeven's video: "It's not that interesting. What I find interesting is the guy sitting on the bench, parallel to me. He entered the park with just a bag in his hand and sat down on the bench. Now he has taken off his jacket and is busy on his smartphone. His hair is shaved. I wonder if he's waiting for someone. "
Susannah Stark will present a live set of music from recent installations, including new songs written during time spent at Komplot, inspired by experiences of meditation. The songs draw focus on a heightened sensory experience of voice. Listeners are invited into a surreal yet sincere soundscape orchestrated by voice and distorted percussion.
Performance 8pm start - 8.25pm approx.
FR:
Komplot a le plaisir d'annoncer l'exposition personnelle de Benjamin Verhoeven résultant d'une résidence de six mois et une performance de Susannah Stark en résidence, dans le cadre du programme d'échange avec la Market Gallery, Glasgow, Ecosse.
Extrait de la vidéo de Benjamin Verhoeven: "Ce n'est pas intéressant. Ce que je trouve intéressant, c'est le gars assis sur le banc, parallèle à moi. Il est entré dans le parc avec juste un sac à la main et s'est assis sur le banc. Il a retiré sa veste et est occupé sur son smartphone. Ses cheveux sont rasés. Je me demande s'il attend quelqu'un. "
Susannah Stark présente une pièce issue de concert et d'installations récentes, comprenant de nouvelles chansons écrites pendant le temps passé à Komplot, inspirées par des expériences de méditation. Les chansons se concentrent sur une expérience sensorielle accrue de la voix. Les auditeurs sont invités à pénétrer dans un paysage sonore surréaliste orchestré par la voix et des percussions.
Performance 20h - 20h25
NL:
Komplot kondigt met genoegen de solo show van Benjamin Verhoeven aan als gevolg van een residentie van zes maanden en performance van Susannah Stark in residentie uit Glasgow in het kader van het uitwisselingsprogramma met Market Gallery.
Uit de video door Benjamin Verhoeven : « Het is niet zo interessant. Wat ik wel interessant vind, is de kerel die op de bank parallel ten opzichte van mij zit. Hij kwam het park binnengewandeld met enkel een tasje in zijn hand en ging op de bank zitten. Nu heeft hij zijn jas uitgedaan en is op zijn smartphone bezig. Hij heeft kortgeschoren haar en ik vraag me af of hij op iemand wacht. »
Susannah Stark presenteert een live set muziek van recente installaties, waaronder nieuwe nummers die zijn geschreven tijdens de tijd doorgebracht in Komplot, geïnspireerd op meditatie-ervaringen. De nummers richten zich op een verhoogde zintuiglijke stemervaring. Luisteraars worden uitgenodigd in een surrealistisch maar oprecht soundscape georkestreerd door stem en vervormde percussie.
Performance 20:00 - 20:25
——
With the support of / Avec le soutien de / met de steun van Fédération Wallonie-Bruxelles, VGC, COCOF, Anderlecht Cultuurdienst
Lieselotte Vloeberghs
28/09/2019
---
EN : Lieselotte Vloeberghs practices drawing and performance. She is in residence at Chateau Nour in September. At the Summer Solstice Dream exhibition in June, she took advantage of the window that opens on the street to weave a link between the exhibition space and the public space, by handwriting with clay a sentence that announces her performance during which her companion greet passers-by from inside the gallery, creating a new and unexpected relationship with the neighborhood.
_
FR : Lieselotte Vloeberghs pratique le dessin et la performance. Elle est en résidence à Chateau Nour en septembre. Lors de l'exposition Summer Solstice Dream, en juin, elle avait profité de la vitrine qui donne sur la rue pour tisser un lien entre l'espace d'exposition et l'espace public, en y inscrivant à la main avec de l'argile une phrase qui annonce sa performance durant laquelle son comparse salue les passants depuis l'intérieur de la galerie, créant un rapport nouveau et inattendu avec le voisinage.
_
NL : Lieselotte Vloeberghs oefent tekenen en spelen. Ze is in september in residentie op Chateau Nour. Tijdens de Summer Solstice Dream-tentoonstelling in juni maakte ze gebruik van het raam dat uitkomt op de straat om een ​​link te leggen tussen de tentoonstellingsruimte en de openbare ruimte, door handschrift met klei een zin die zijn uitvoering aankondigt, waarin zijn partner voorbijgangers groet vanuit de galerij, waardoor een nieuwe en onverwachte relatie met de buurt ontstaat.
New space : Chateau NOUR
23/04/2019
---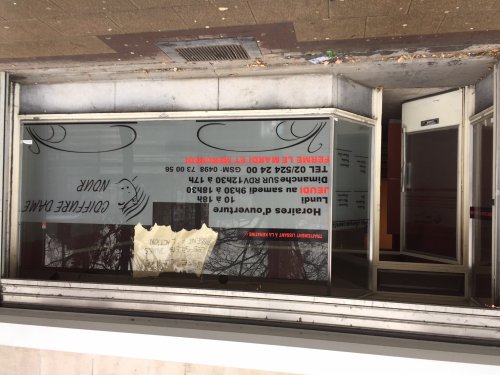 On 23 April, Komplot opened Chateau Nour, a new exhibition and residency space with Mosso, Clovis XV, SUPERDEALS and Rectangle.
---
13 Square Albert 1er 1070 Brussels
---
Notre objectif, avec l'ouverture d'un nouvel espace intérieur et extérieur, dans l'ancien salon de coiffure NOUR et jardin Albert, est de stimuler les collaborations entre Clovis XV, Komplot, Mosso, Rectangle, SUPER DEALS et d'autres associations, groupes et personnes. Sur la base d'un programme d'ateliers et résidences, nous créons un réseau dans lequel développement local et participation vont de pair avec des formes expérimentales de créativité.
——
Our goal, with the opening of a new interior and exterior space, in the former NOUR hair salon and Albert garden, is to stimulate collaborations between Clovis XV, Komplot, Mosso, Rectangle, SUPER DEALS and other associations, groups and people. On the basis of a program of workshops and residences, we create a network in which local development and participation go hand in hand with experimental forms of creativity.
————
Ons doel, met de opening van een nieuwe binnen- en buitenruimte, in de voormalige kapsalon NOUR en Albert tuin, is om samenwerkingen tussen Clovis XV, Komplot, Mosso, Rectangle, SUPER DEALS en andere verenigingen te stimuleren, groepen en mensen. Op basis van een programma van workshops en residenties creëren we een netwerk waarin lokale ontwikkeling en participatie hand in hand gaan met experimentele vormen van creativiteit.
---
---
EDITION CORNER ///
10/12/2015
---
---
---
---
SOME EDITIONS / ARTIST BOOKS
---
---
---
---
The Cure book
09/12/2015
---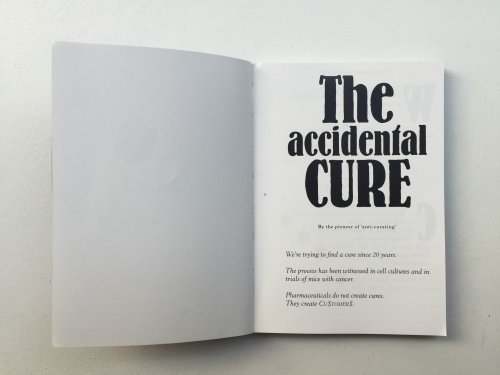 The Cure is distributed by MOTTO and on sale in Brussels at Wiels, Filigranes, Tulitu, Peinture Fraîche, Superstrat, Tropismes and in Gent at Boekhandel Limerick.
---
With Contributors:
 Felicia Atkinson (Fr), Anna Barham (Uk), Bruce Bégout (Fr), Kasper Bosmans (Be), Michelangelo Corsaro (It), Park C. Myers (Us), Audrey Cottin (Fr), Laura Herman (Be), Erika Hock (Kg), Katerina Kana (Gr), Marie-Fleur Lefèbvre (Fr), Zoë Paul (Uk), Emmanuelle Quertain (Be), Marthe Ramm Fortun (No), Alex Reynolds (Uk), Julia Spínola (Es), Cléo Totti (Be), Pieter Vermeulen (Be), Catherine Vertige (Be)


Edited by 
Benjamin Jaubert (Fr), Sofie van Loo (Be), Stefaan Willems (Be)
Introduced by Sonia Dermience (Be)


Designed by Ismaël Bennani & Orfée Grandhomme - Überknackig
---
ARCHIVES
30/11/-0001
---
Past Projects
---