Nils Alix-Tabeling 'Le bétyle d'ail'
20/04/2018
---
Nils Alix-Tabeling
20th of April 21h
Place du Jardin aux fleurs 8 Bloemenhofplein 1000 Brussels
---
With
Acting by Andrea Baglione
Music by Mathieu Levet
Curated by Komplot
Supported by Fédération Wallonie-Bruxelles & Ville de Bruxelles/Stad Brussel
---
The Bétyle d'Ail is a new performance by Nils Alix-Tabeling, produced and curated by Komplot. The performance, inspired by Marcel Aymé's novel 'La Vouivre', borrows from the visual language of an Operetta to display a love relationship between a mythical creature from French pagan folklore, and a macabre sculpture of a fallen medieval soldier. Both characters compose together one body, the rotten soldier is merging with the slithery creature, digested by her, her dress forms her lair and her lair is composed of his reorganised body parts. In this way the living-dead and the immortal fairy can engage in a lighthearted conversation on the parameters of their mutual immortality, while witnessing their merging. The operetta will unfold the thematics of sexuality, desire and frivolity, seen here as as positive and critical notion opposed to dogmatism. The play salutes queer authors like Colette and Verlaine in a grotesque and macabre celebration of the human body in its glorious grossness and chthonic drives toward the inner cavities, seen as spaces of merging together and organic conversations.
---
De Bétyle d'Ail is een nieuwe productie van Nils Alix-Tabeling, geproduceerd en gecureerd door Komplot. De voorstelling inspireert zich op Marcel Aymé's roman 'La Vouivre' en ontleent aan de beeldtaal van een operette. Het stuk gaat over een liefdesrelatie tussen een mythisch wezen uit de Franse heidense folklore en een macabere sculptuur van een gevallen middeleeuwse soldaat. Beide personages vormen samen één lichaam, de rottende soldaat versmelt met het glibberige schepsel en wordt verteerd door haar. Haar jurk wordt haar schuilplaats en is samengesteld uit zijn lichaamsdelen. Zo kunnen de levenloze en de onsterfelijke fee een luchtig gesprek aangaan over de parameters van hun wederzijdse onsterfelijkheid, terwijl ze getuige zijn van hun éénwording. De operette ontvouwt zich in de thematiek van seksualiteit, verlangen en frivoliteit, en beschouwt dit als een positief en kritisch begrip tegen het dogmatisme. Deze performance brengt hulde aan queer auteurs zoals Colette en Verlaine in de vorm van een groteske en macabere viering van het menselijk lichaam in al zijn glorieuze grofheid en chtonische aandrijvingen naar innerlijke holtes, de ruimtes van samensmelting en organische gesprekken.
---
Le Bétyle d'Ail est une nouvelle performance de Nils Alix-Tabeling, produite et organisée par Komplot. La performance, inspirée du roman de Marcel Aymé La Vouivre, emprunte au langage visuel de l'opérette pour montrer la relation amoureuse entre une créature mythique du folklore païen français et une sculpture macabre d'un soldat médiéval tombé au combat. Les deux personnages composent ensemble un corps, le soldat pourri se confond avec la créature glissante, digérée par elle, sa robe forme son antre et son repaire est composé de ses parties du corps réorganisées. De cette façon, le mort-vivant et la fée immortelle peuvent engager une conversation enjouée sur les paramètres de leur immortalité mutuelle, tout en étant témoins de leur fusion. L'opérette dévoile les thématiques de la sexualité, du désir et de la frivolité, vus ici comme une notion positive et critique opposée au dogmatisme. La pièce salue des auteurs queer tels que Colette et Verlaine dans une célébration grotesque et macabre du corps humain dans sa grossièreté glorieuse et ses poussées chthoniques vers les cavités intérieures, vues comme des espaces de fusion et de conversations organiques.
---
---
Our space occupied by Saloon
03/03/2018
---
Vorstse Steenweg 90 Chaussée de Forest 1060 Brussels
9 March - 15 July
Saloon program at Komplot
---
---
New Day New Money To Be Made
27/09/2017
---
New Day New Money To Be Made is a quote taken from the pop song Black Barbie by Nicki Minaj addressing the ambient precarity. Time is money. Today's capitalist society hardly leaves us the time to perform one mission, and we already need to look for the next one. No time to think. This exhausting rhythm of searching for work, finding new clients, making the job and getting paid; This constant reinvention of the self in every challenging moment of uncertainty, became the obsessive, repetitive patterns of our post-colonial, post-proletarian, post-work conditions. These routines in which you are kept captive, prevent the possibility to break through. Precarity is constructed to make change impossible. What about social welfare? What about psychological welfare? Reality check? Paycheck. No time to lose.
---
This was the statement text of our last series of emerging artists shows in Komplot that we wish to extend to all the practice!
---
---
EDITION CORNER ///
10/12/2015
---
---
---
---
SOME EDITIONS / ARTIST BOOKS
---
---
---
---
The Cure book
09/12/2015
---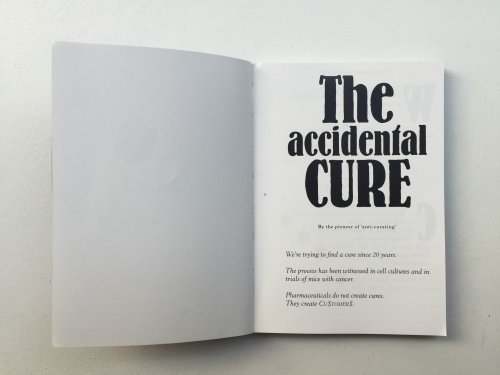 The Cure is distributed by MOTTO and on sale in Brussels at Wiels, Filigranes, Tulitu, Peinture Fraîche, Superstrat, Tropismes and in Gent at Boekhandel Limerick.
---
With Contributors:
 Felicia Atkinson (Fr), Anna Barham (Uk), Bruce Bégout (Fr), Kasper Bosmans (Be), Michelangelo Corsaro (It), Park C. Myers (Us), Audrey Cottin (Fr), Laura Herman (Be), Erika Hock (Kg), Katerina Kana (Gr), Marie-Fleur Lefèbvre (Fr), Zoë Paul (Uk), Emmanuelle Quertain (Be), Marthe Ramm Fortun (No), Alex Reynolds (Uk), Julia Spínola (Es), Cléo Totti (Be), Pieter Vermeulen (Be), Catherine Vertige (Be)


Edited by 
Benjamin Jaubert (Fr), Sofie van Loo (Be), Stefaan Willems (Be)
Introduced by Sonia Dermience (Be)


Designed by Ismaël Bennani & Orfée Grandhomme - Überknackig
---
BOOK LAUNCH BY GRÉGOIRE BERGERET / LIVE TECHNO BY ELEKTRONISCH VOLUME
01/11/2015
---
---
KOPIOITU
22/08/2013
---
YEAR 13 magazine
30/04/2013
---
Buy your copy online at:
Check our launchs here:
---
ARTISTS PRINT
04/04/2013
---
Have a look at images from the happy week-end of ARTISTS PRINT, our book-fair for printed-matter lovers.
---
Une année de chiens: Grégoire Bergeret
13/02/2013
---
12 euros: to be ordered at info@kmplt.be
---
THE SPIRIT OF ECSTASY by David Evrard
29/11/2012
---
Buy your copy online at
With Anne Bossuroy, Jean-Daniel Bourgeois, Isabelle Copet, Jonathan Dewinter, Jenny Donnay, Lucie Ducenne, François Francescini, Jonas Locht, Xavier Mary, Gérard Meurant et Nicolas Verplaetse.
---
ARCHIVES
30/11/-0001
---
Past Projects
---