Happy Ever After by Birde Vanheerswynghels
18/03/2017
---
KOMPLOT
Chaussée de Forest 90 Vorstesteenweg
1060 Brussels
March 22 – April 15
Wed. – Sat., 2 – 6pm

---
18 March: Opening
2 – 8PM
---
With by Birde Vanheerswynghels
Curated by Komplot
---
EN
Happy ever after sets the decoration for an imaginary, natural landscape. For this exhibition Brussels-based artist Birde Vanheerswynghels shows a large-scale, charcoal drawing. Vanheerswynghels finds inspiration in parks, greenhouses and museums of natural history - designed for the audience to understand and enjoy the variety and beauty of nature. An alphabet or a logical way of understanding nature. In the future more than 50 percent of the human population will live in cities, where nature is controlled by man and provides leisure-time for the citizens. What about a walk with your dog? A friendly football match? Or getting that tan on a sunny Sunday afternoon? Leaving us more alienated from nature than ever - can you hear the cars humming on the background? The drawings of Birde Vanheerswhyngels are not a plea for another way of living, they do not defend nor offend no-one or nothing, but capture nature's beauty by the imaginary. These drawings are not a representation of an existing scene. Vanheerswhyngels starts from one single form that she keeps repeating; she draws from her memory and gestures are more important than composition. Her approach is intuitive. Romance may be dead, romanticism is not. Sometimes I'm happy.
---
Our New Address
13/02/2016
---
Vorstse Steenweg 90 Chaussée de Forest 1060 Brussels
---
October
Guest curator : Louise Bernatowiez (FR, Brussels)
---
November - December

Guest curator: Melissa Destino (IT, Brussels)
---
---
---
EDITION CORNER ///
10/12/2015
---
---
---
---
SOME EDITIONS / ARTIST BOOKS
---
---
---
---
The Cure book
09/12/2015
---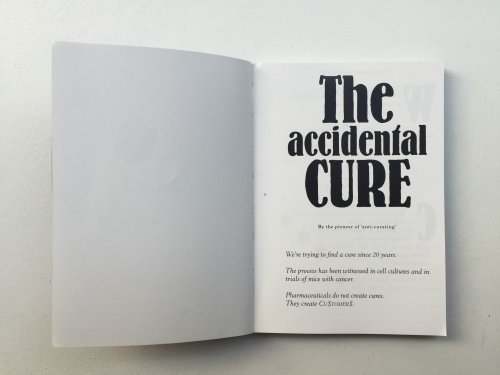 The Cure is distributed by MOTTO and on sale in Brussels at Wiels, Filigranes, Tulitu, Peinture Fraîche, Superstrat, Tropismes and in Gent at Boekhandel Limerick.
---
With Contributors:
 Felicia Atkinson (Fr), Anna Barham (Uk), Bruce Bégout (Fr), Kasper Bosmans (Be), Michelangelo Corsaro (It), Park C. Myers (Us), Audrey Cottin (Fr), Laura Herman (Be), Erika Hock (Kg), Katerina Kana (Gr), Marie-Fleur Lefèbvre (Fr), Zoë Paul (Uk), Emmanuelle Quertain (Be), Marthe Ramm Fortun (No), Alex Reynolds (Uk), Julia Spínola (Es), Cléo Totti (Be), Pieter Vermeulen (Be), Catherine Vertige (Be)


Edited by 
Benjamin Jaubert (Fr), Sofie van Loo (Be), Stefaan Willems (Be)
Introduced by Sonia Dermience (Be)


Designed by Ismaël Bennani & Orfée Grandhomme - Überknackig
---
BOOK LAUNCH BY GRÉGOIRE BERGERET / LIVE TECHNO BY ELEKTRONISCH VOLUME
01/11/2015
---
---
KOPIOITU
22/08/2013
---
YEAR 13 magazine
30/04/2013
---
Buy your copy online at:
Check our launchs here:
---
ARTISTS PRINT
04/04/2013
---
Have a look at images from the happy week-end of ARTISTS PRINT, our book-fair for printed-matter lovers.
---
Une année de chiens: Grégoire Bergeret
13/02/2013
---
12 euros: to be ordered at info@kmplt.be
---
THE SPIRIT OF ECSTASY by David Evrard
29/11/2012
---
Buy your copy online at
With Anne Bossuroy, Jean-Daniel Bourgeois, Isabelle Copet, Jonathan Dewinter, Jenny Donnay, Lucie Ducenne, François Francescini, Jonas Locht, Xavier Mary, Gérard Meurant et Nicolas Verplaetse.
---
ARCHIVES
30/11/-0001
---
Past Projects
---
BOOK LAUNCH / BBQ / LIVE MUSIC
---
2016-06-25